A man was killed and a woman injured in an explosion on Sunday outside a metro station in Stockholm, Sweden, police said.
"The man was seriously hurt injured after he picked up something from the ground and this device exploded", said Stockholm police spokesperson Sven-Erik Olsson, according to the Independent.
The Expressen and Aftonbladet newspapers said the device was a hand grenade, but that has not been confirmed.
Police also said the man died at the hospital and that the woman was also taken to the hospital and had wounds on her face and both legs.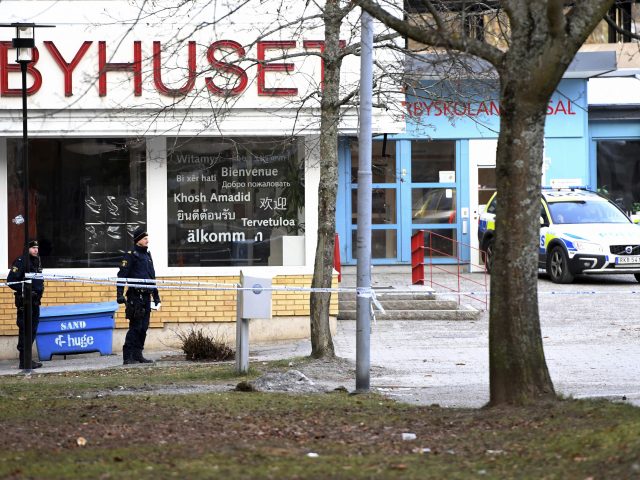 Police activity near Varby Gard metro station
Rescue official Lars-Ake Stevelind told Swedish broadcaster SVT that "someone has used some type of explosive material" for the object and that police were investigating it.
Police said fragment damages on the victims and findings at the scene indicated the explosive could be a hand grenade, possibly an old one. The report quoted police sources as saying that there was no indication that the explosion was directed against any individuals or property.
The three biggest cities in Sweden, Stockholm, Gothenburg and Malmo, have seen several violent gang-related incidents in the past few years.
Top Stories
Mega Millions at $445M: Here are some past Dayton area lotto winners
The state's largest Mega Millions jackpot was a $91.8 million cash-value prize claimed by a Virginia man in 2015. A customer fills out a Mega Millions ticket at a local grocery store, Friday, July 1, 2016, in Hialeah, Fla.
It's time to end Pakistan's double game, says former USA envoy
We have taken Jerusalem, the toughest part of the negotiation, off the table, but Israel, for that, would have had to pay more. The meeting, which lasted almost three hours, was brought forward by a day and followed an earlier meeting of army generals.
Bus strike: Standoff on, Tamil Nadu government issues Sunday ultimatum
The striking unions wanted the "factor" for revision to be fixed at 2.57 while the government insisted it be 2.44. He reiterated that transport corporation employees resorted to strike as they had no other option on the matter.
Oakland Raiders: Jon Gruden set to return to Silver and Black
After getting fired from the Bucs in 2009, Gruden went to ESPN and became the main color commentator of Monday Night Football . The 54-year-old spent seven seasons as the Bucs coach, but was sacked following the 2008 campaign after a 9-7 term.
Pakistan condemns terror attack in Kabul
Afghan police says the death toll of the suicide attack in Kabul rises to 20 now. Despite the increased security measures militants continue to carry out attacks.
Elder Dragons Trailer Revealed For Monster Hunter
Capcom's livestream lasted about an hour and detailed what the community should expect before, during and after launch week. Also, the kind folks over at Capcom wanted to affirm that there will be free post-launch DLC for Monster Hunter World .
Alabama home of Roy Moore accuser burns, arson suspected
The Republican Moore , a former chief justice of Alabama's Supreme Court, lost narrowly to Democratic candidate Doug Jones . Johnson accused Moore of groping her butt in 1991, when she was 28 and visiting his law office.
Romaine lettuce linked to outbreak of E. coli in 13 states
On Dec. 24, Sobeys Inc. said it is pulling more than 300 romaine lettuce products from its shelves at stores across the country. An E. coli outbreak has sickened more than a dozen Americans, and it's possible that romaine lettuce could be the source.
Khloe Kardashian says she's not marrying Tristan Thompson anytime soon
No one will know you're pregnant, they're just like, 'Oh, you should get back in the gym.' And you just feel the worst. In an Instagram post earlier this week, Kardashian said she was six months pregnant .
Total lunar eclipse on January 31
According to NASA , a blue moon happens every two-and-a-half years. "The moon will turn red or coppery during the total eclipse". This happens at least twice a year - but in this case, it's the fact that all these events coincide that makes it so cool.